Do you have additional information you would love to put on Instagram about your brand? For instance your Facebook, blog, website or landing page links. Why keep valuable information about your business, right? Unfortunately, Instagram gives only ONE link option, and that is in your Bio. A solution to having multiple links on your Instagram page is Linktree.
Linktree is a platform that allows you to post multiple links inside the Instagram bio. The best part is, it is FREE and you can have as many links as you wish.
To use linktree, follow the steps below.
HOW TO SET UP LINKTREE
STEP 1: SIGN UP TO LINKTREE AND CONNECT TO INSTAGRAM
The first thing you need to do is head over to Linktree and sign up using your Instagram account. If you're not already signed into Instagram, you'll be prompted to do so.
STEP 2: ADD BUTTONS/LINKS OF THE SITES YOU WANT TO SHARE
After signing in, you add the links you want to share on Instagram.
Once you've clicked "Add New Button/Link", then you add your link and the title of the page.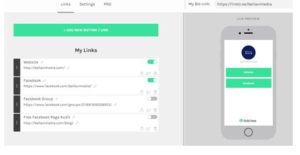 STEP 3: CHANGE THEME/COLOUR SCHEME (OPTIONAL)
You have the option to change the theme/colour scheme. It gives you a few designs to choose from.
STEP 4: COPY AND PASTE THE GIVEN LINK ONTO INSTAGRAM BIO
Linktree would give a link for your bio. Copy it, and update your Instagram bio with it.

STEP 5: TEST ALL YOUR LINKS TO MAKE SURE THEY WORK CORRECTLY
Once you've added your link and saved your profile, test all the links to make sure they're working correctly. If a link does not work, contact linktree for support – they assisted me.
So go ahead to update your Instagram to crush your business goals. Using Linktree is a great and free way to drive more targeted traffic and increase sales.
Request a free quote or contact our team today for help to optimize your social media platforms. If you're looking for a digital marketing team dedicated to improving your business, we are here to help.