If you are in business and can't be found on google, you are losing money to your competition because consumers search and do business with those found online. One way to increase in publicity, leads and sales online is to advertise regularly, but unfortunately, most SMEs have little or no budget for online advertisement. Another way which comes at no cost is to use Google My Business.
What Is Google My Business
Google my business (GMB) is a free tool from Google which allows you to create a business profile that will appear in search results along with a map location. When customers use a relevant search term, your business will pop up with all the information they need: your store's name, address, phone number, opening hours and customer reviews.
This is an effective way to set up your Local SEO strategy to get your business the publicity it needs.
You may ask why bother with Google listing, according to Net Marketshare, approximately 80% of all searches happen on Google. Most times, searchers rarely go beyond the first page. That's why Google My Business is so important in helping you showcase your business.
How to set up and Optimize Your Google My Business Listing
To set up your profile, you go to https://www.google.com/business/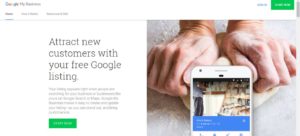 SETTING UP PROFILE
Claim and verify all your business location(s), if you have more than one.
Enter complete, accurate, and up-to-date information on hours, locations, and more.
Check that the website link is listed and accurate.
Select the most relevant category is essential because it determines when Google will choose to show your listing. If none of the categories is an exact match, choose the most general one that describes your business.
Add high-quality photos of products and services. The image sizes should be PNG or JPG files and between 10KB and 5MB.
Profile image – 250 x 250 pixels (minimum 120 x 120; maximum 5200 x 5300)
Cover photo – 1080 x 608 pixels (minimum 480 x 270; maximum 2120 x 1192)
Shared images – 497 x 373 pixels (minimum width 497; maximum 2048 x 2048)
Google uses algorithms to check your business listing against information provided online from other sources. If the data you provided doesn't match up, it might affect your ranking online. Ensure your Business details are same across other sources online eg your website.
Ensure to regularly check that you do not violate any policies
Review and update your Google my business page when necessary. It is important you check your profile regularly to ensure the information, such as holiday hours, is accurate and up to date. Ensure, you check out the new photos or reviews posted by your customers, this also gives you an insight on how customers view your business on a regular basis.
To edit your Google My Business profile, choose the page you want to manage and then click "Info" in the menu. Find the section you want to change and input the new information. When done, click the "Done editing" button. Business owners should be aware that it could take up to 60 days for old information to be removed and replaced.
Request a free quote or contact our team today for help to optimize your Google My Business page for SEO or revamping your online presence. If you're looking for a digital marketing team dedicated to improving your business, we are here to help.